Ralley Tours
A relaxing or an activity holiday – with our star rides both options are possible. You can choose for yourself every day whether you want to stay in your hotel or to go on a beautiful bicycle tour.
Star Tours
Star ride Wachau, 5 days

Wine terraces and apricot gardens…
On this star ride we can experience the Wachau from her most beautiful side while letting our soul bounce, and enjoy the fresh air of the Danube. We start our daily bicycle trips from our hotel in Krems and explore the Wachau little by little on even cycle paths.
---
Star ride Bad Füssing

Relaxation at the club hotel…
We decide each day anew whether we spend the day in Bad Füssing, relax in the thermal bath, or explore the Rott Valley by bicycle (no discount for unused all-inclusive services!)
Total length: approx. 260 bicycle kilometres
---
Star ride South Bohemia

Scenic ponds, woods, fortresses, and castles…
On this bicycle tour we can start every day afresh and decide whether we want to take up one of the tour suggestions or to stay at our hotel/in Pisek. The former royal city of Pisek, whose name recalls the gold-carrying river sand, lies quietly at the Otava River and counts among the most beautiful cities of Bohemia. Worth seeing are, for instance, the former castle (today's Prachiner Museum), a historic hydroelectric power plant that is still in use today, and St. Mary's Church. The medieval stone bridge is the symbol of the city and the oldest preserved building of its type in Bohemia.
Total length: approx bicycle kilometres
---
Star ride at Lake Plattensee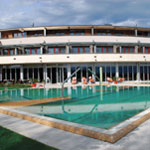 Up close with Balaton...
On this bicycle tour we are free to choose whether we want to realize the extensive wellness offers of our hotel or mount our bicycles to take up one of the following tour suggestions.
---