Individual tours with luggage transport
These tours are ideal for all of our guests who prefer to cycle by themselves, while wishing to enlist the services of a professional travel business.

This way you are able to experience your cycle holiday by yourself, in pairs of two, or in the company of family or good friends: Relishing the natural and cultural sights to your heart's desire, you decide where and when you would like to rest without any time restrictions, provided you arrive at the accommodation we have booked for you in the evening.

You'll be handed extensive route descriptions with detailed maps before your trip. While you cycle light-heartedly and savour the impressions of passing sceneries, we transport your luggage from one hotel to the next. This type of travelling enables you to plan your day individually without having to forgo the comfort provided by our travel business.
Individual Tours
Castles of the Loire

Gorgeous palaces, pompous gardens and green vine yards…
The Loire Valley is not only famous for its castles, but also for its romantic riverscapes and the medieval flair of enchanting cities.
Total length: approx. 330 bicycle kilometres
---
North Burgundy

On a cultural and culinary discovery…
On this bicycle tour we discover the historic monuments and picture book landscapes of North Burgundy. The journey takes us through beautiful heath and river landscapes, and picturesque villages.
Total length: approx. 225 bicycle kilometres
---
Highlights of the Provence
Cycling through the sunny country of France…
Fertile lowlands, cultural centres from Antiquity and the Middle Ages, fragrant herbs, and the Provencal way of life – all this is life in the Provence! Except for some small ascents in the hill country of de Garrigue and in the Alpilles, we can look forward to an easy and varied tour.
Total length: approx. 305 bicycle kilometres
---
St. Moritz - Innsbruck

On the Inn Valley Cycle Path from the Swiss Engadin into the State of Tyrol…
On this tour we can look forward to breathtaking sceneries while we cycle between impressive mountain peaks along the "young" Inn River from the Swiss Engadin into the capital of Tyrol. We can expect slightly hilly stages with 2 or 3 medium ascents as well as many moderate descents.
Total length: approx. 225 bicycle kilometres
---
Rhone-Route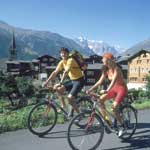 Nowhere in Switzerland does the sun shine quite like here…
On this varied tour we get to know three entirely different types of scenery: The alpine landscape in Goms, the vastness of the Rhone Valley, and, after Villeneuve, Lake Geneva on one side of the route and vineyards on the other.
Total length: approx. 282 bicycle kilometres
---
Vienna - Budapest
In search of the ancient Danube Monarchy...
The Danube Cycle Path from Vienna to Budapest is the logical continuation of the most popular cycle path of Europe, the Danube Cycle Path from Passau to Vienna. We will meet excellent dam ways along the Danube and Danube reservoirs in Austria and Slovakia, comfortable Hungarian country roads and pristine Hungarian villages, culturally interesting towns such as Györ, Tata, and Esztergom, the scenic Danube knee, and, of course, the incomparable city of Budapest - the crowning jewel of our tour.
Total length: approx. 342 bicycle kilometres
---
Beaches and cities of Holland

Scenic idylls, the breaking of waves upon the shore, and cultural diversity...
On this cycle tour we discover Holland in all its splendour. Behind the dunes a diversified back-country appears with beautiful historic cities, countless listed buildings, and interesting museums. Friends of art and culture will definitely get their money's worth here. Cities such as Amsterdam, Utrecht, and Den Haag all have gained their special place in Dutch national history, with each city demonstrating its own unique charm.
Total length: approx. 264 bicycle kilometres
---
Göta Canal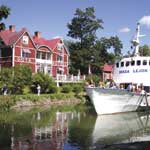 Along the fairest waterway of Sweden…
A wonderfully varied nature and the sheer power of the water in the locks await us on this tour on the eastern part of the Göta Canal. Wooded hills, picturesque farmsteads, as well as glittering lakes, characterize this region. We discover small Swedish towns with their red wooden houses, churches, and castles.
Total length: 393 bicycle kilometres
---
Siebenbürgen
Transylvania – medieval castles – unexplored cultural landscape...
Siebenbürgen, framed like an arch by the Carpathian Mountains, is a landscape out of a fairytale book. Horse carriages loaded with hay, small castles in each town, and ancient villages in which time seems to stand still characterize the landscape. Our diversified tour, which affords us countless marvellous views, takes us through the scenery of the Carpathian Mountains. Apart from numerous church fortresses, we see the medieval Schäßburg Citadel and Hermannstadt with fantastic patrician buildings from the Baroque and Renaissance period. Talks with Saxons who have stayed here in Siebenbürgen open a window for us into a long forgotten time.
Total length: approx. 253 – 278 bicycle kilometres
---
Province of Zeeland
Discover the sunny Southwest of Holland by bike…
Tranquil coastal towns, wonderful dune landscapes, and 70 km clean, gently sloping sandy beaches make up the varied natural scenery and guarantee an unforgettable bicycle tour in the Province of Zeeland.
Total length: approx. 307 bicycle kilometres
---
Emerald Route Slovenia

The most beautiful sights of Slovenia…
This tour is ideal for a first visit to Slovenia: We will get to know a lot of its most famous sights in one week. From the capital of Ljubljana we follow the ancient trade routes to the Adriatic Sea. Let's experience the bustling baroque city of Ljubljana, the historic town of Trieste, and tranquil villages nestled between vineyards, and enjoy the culinary delicacies such as goat and sheep cheese, full-bodied vines, and the air-dried ham Pršut.
Total length: approx. 209 – 284 bicycle kilometres
---